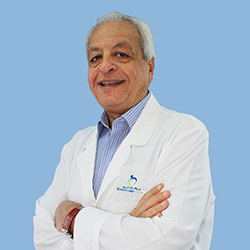 Graduated and having his master in Paediatrics from the Cairo University, Egypt.

He has experience working as a Paediatric resident in Children Officer in different branches of Medicine in faculty of Medicine, Cairo University and Ministry of Health, also as a Consultant Paediatrician (Paediatric Intensive Care and Neonatal Intensive Care) in Children University Hospital, Faculty of Medicine, Cairo University.

He was Consultant Paediatrician in Saudi Arabia, and his experience in Abu Dhabi, UAE started in 1994 as a Consultant Paediatrician in Al Noor Hospital. Since 1999 he is practising his paediatric skills as a Consultant Paediatrician at Dr. Ahmed Fikry Medical Center, and being still part of it under the same roof of Quality Care Medical Center.

Dr. Ahmed Fikry is highly experience and qualified in his field, treating over thousands of children in his career with a special care and unique approach.