At QCMC, we understand the importance of healthy skin and we focus on bringing the best care for our patients.

Our doctors are highly qualified and experienced in medical and cosmetic dermatology treatments, and their work is followed up by a number of a satisfied and returning patients.

In line with our commitment to provide the best derma clinic services to all patients, we use innovative technologies and diagnostics equipment to deliver accurate, quality and effective treatments that improve the dermatological health of our patients, and their overall quality of life.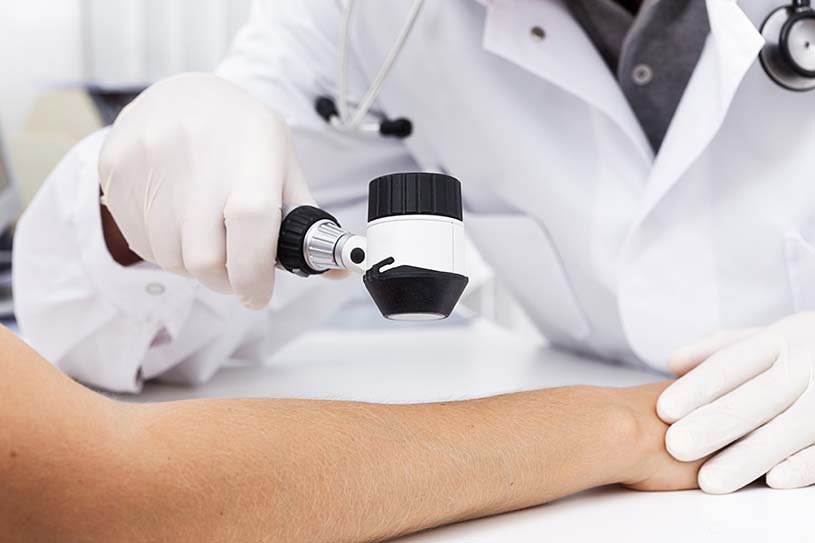 Our Dermatologists Specialize in the Following Derma Clinic Treatments & Services
Diagnostic Procedures:
Skin scrapping test for fungus detection
Hair Examination for fungus detection
Skin biopsy under local anesthesia (L.A.) + Histopathology

Dermatology Treatments:
Treatment of Different Skin Diseases
Destruction of skin lesion under L.A. like warts, seborrheic keratosis, molluscum contagiosum and skin tags – by Electrocautery, Curettage or Cryotherapy
Skin Burn Management & Dressing
Comedo Extraction (Acne Surgery)
Removal of nevi, Benign Skin Tumors
Radiofrequency Removal of Blood vessels
Consult with our dermatologist in Abu Dhabi
Our broad range of dermatological treatments and services is designed to meet the individual needs of patients for quality, focused and compassionate dermatology care. We have a dedicated team of highly qualified and internationally experienced dermatologists providing exceptional patient care, right from the consultation and throughout the treatment.
Should you need the expertise of the best dermatologist in Abu Dhabi, please give us a call on (+971) 2 62 60 600 or email us at derma@qcmc.ae to set a schedule for consultation. If you have any queries about our clinic schedule or doctor's availability, please do not hesitate to reach out. Our staff will be more than happy to assist you and respond to your enquiry at the soonest possible time.