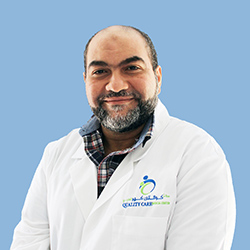 Graduated and received his Master Degree in E.N.T from Tanta University, Faculty of Medicine in Egypt.

He is highly motivated and qualified Specialist in Ear, Nose and Throat, with long experience in UAE as an E.N.T Specialist in Ahmed Fikry Medical Center and continuing his career under the same roof in Quality Care Medical Center as a Medical Director and E.N.T specialist. He was working in Tanta University Hospital as an E.N.T. doctor and Elfath. International Hospital Kafr, Egypt.

He is well trained in wide range of treatments and surgeries for ear, nose and throat's chronic and acute diseases, as: treatments for sleep apnea and snoring, tonsillitis, voice disorders, headaches and vertigo, removal of foreign body in the nose, ear and the pharynx, functional endoscopic sinus surgeries (F.E.S.S.), ear surgeries and other treatments.